Skyrocket Your Store Visits Through Google Local Search Ads
Google's search ads space is increasingly getting dominated by brands with a huge budget and dedicated search engine marketing specialists. The tech giant has noted the plight of small business owners and hence came up with "Google Local Ads".
This feature has been released for both Chrome and Google Maps currently, which has led to a shift in balance in favour of local businesses.
Read on to learn everything you need to know about local search ads
Also Read: Step by Step Procedure To Build Your First Google Ads Campaign From Scratch
What Are Google Local Search Ads
What do we do these days when we urgently need to buy some product or service nearby? that's right, we google it.
The search engine has become so efficient that it can now accurately detect local search intent and shows businesses nearest and best suited for our query, including a map.
However, that is yesterday's news.
Previously, there were no ads in this space and businesses that are nearest and with good reviews would show up on top.
Now that is set to change with the inclusion of local ads in the SERP. The top position in the local pack will now be reserved for businesses that implement local search ads
Since the local pack appears even before the search ads for local queries, your business will be the first to be seen in the SERP.
Albeit, there will be a small "ad" tag next to it.
Here is how it will look on mobile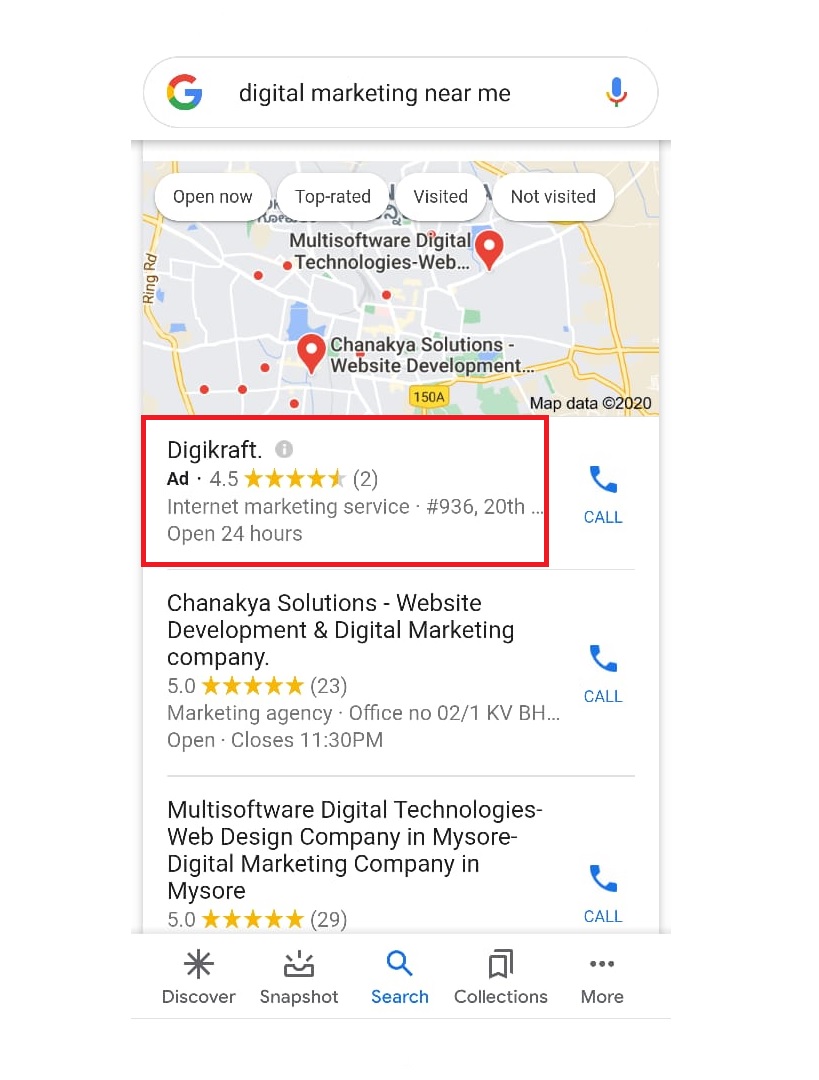 Another noteworthy thing is that once you advertise on the Google search network for local ads, they will also show up on Google maps.
If a user searches for a specific query related to your ad, your business will show up like this on the results bar on Google Maps.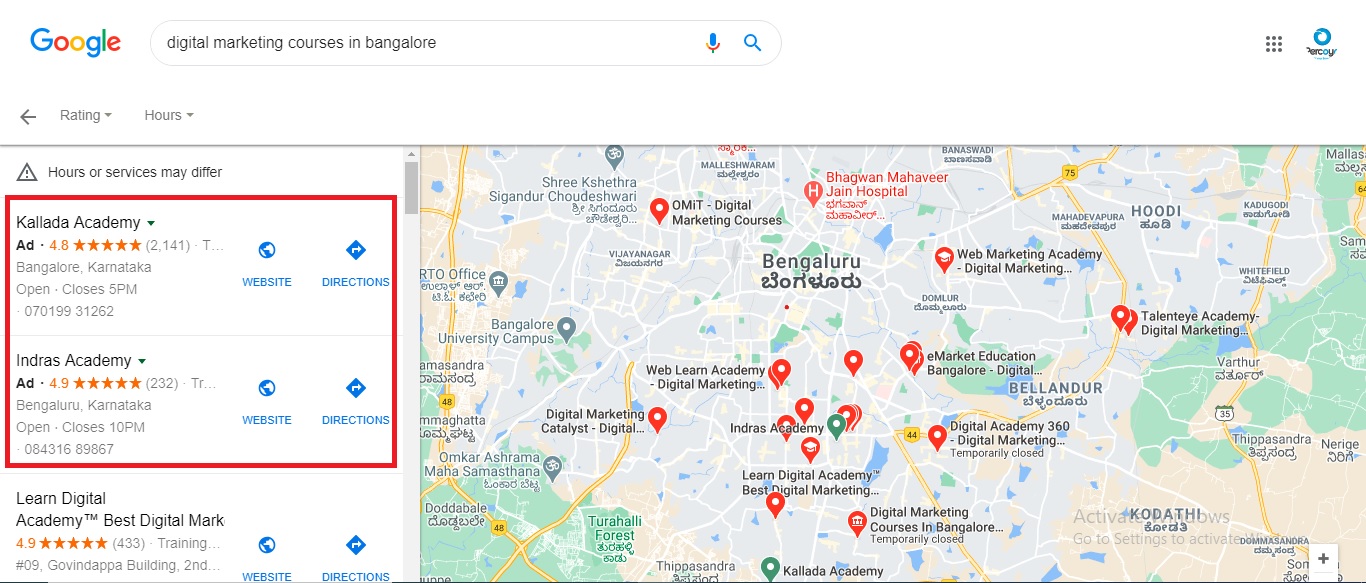 However, even if the user is looking for directions between places in the vicinity or just exploring the area in Maps, your business's pin will be visible to them as a pin.
Just like normal pins these also appear in red. How cool is that?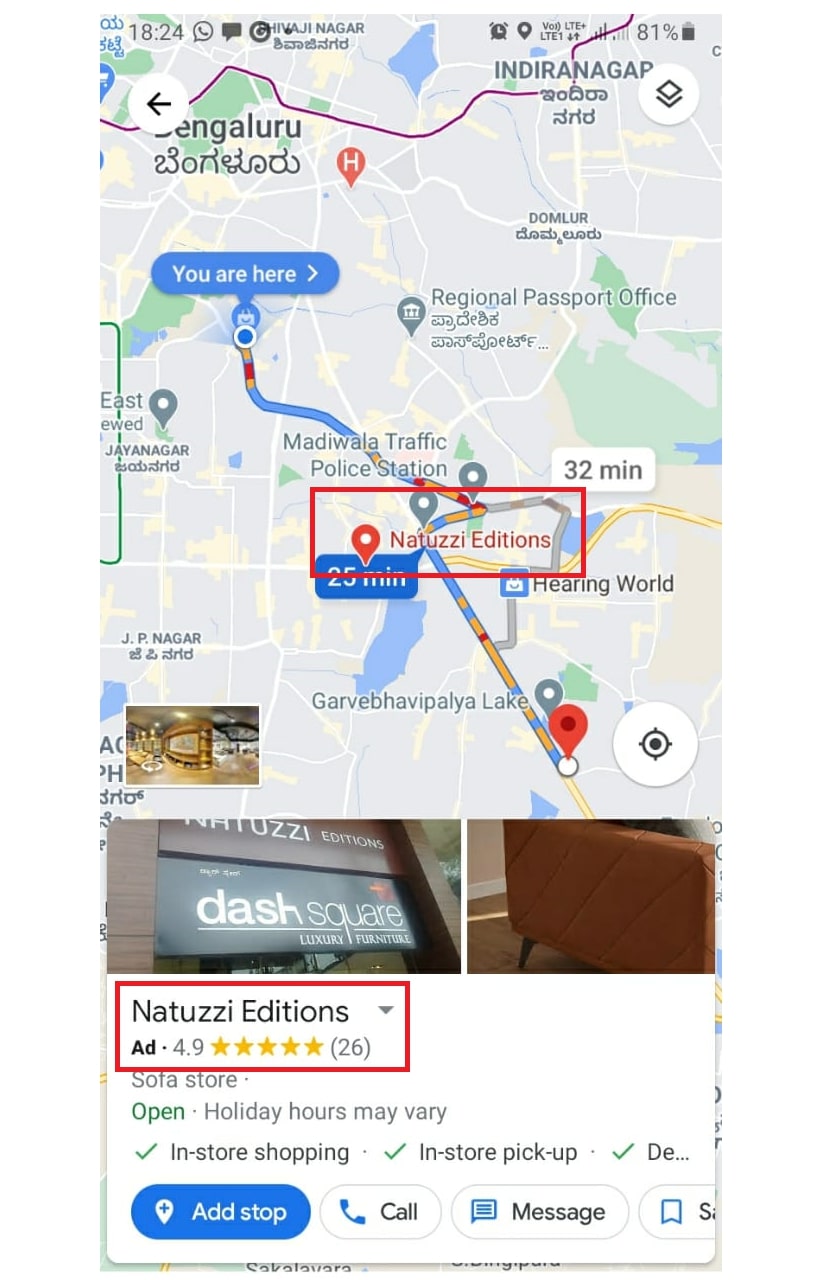 This is bound to take the online visibility of local businesses to unprecedented levels.
If you have a "Google Guaranteed" badge, even that will show up along with the ad. It is a nice way to create trust among searchers.
How To Enable Google Local Search Ads For Your Business
Since Google Maps is a part of the "search network" on Google, you will need to activate a search campaign to run search ads.
Once you have selected the search campaign, go to "ads and extensions", then click on the blue button
Here, select the local extensions
After that, Google ads will ask you to link your ads account to Google My Business
If both are on different Emails, you need to request access to GMB
Once you have done that, Google Ads automatically pulls in all essential info like phone numbers, location, email and websites
You have to make sure that the data is updated and accurate so that users don't end up calling unrelated people or them visiting an old location
And that is pretty much it, you can now run local search ads on the Google Search network
You can link this location extension to any number of ad groups as well as individual campaigns
Next, you need to add the locations to target
To do that, go to locations and click on the blue pencil icon to add new addresses
After that, click on "select campaign" and click on the active campaign that you want to use
A useful tip from our side would be to enable radius targeting.
When a person is inside that radius, your ad will be primed to show up
You can also automatically increase your bid when a person is in close vicinity of your business. This feature is also highly recommended.
Once you have started running the campaign, Google gives you a list of conversion metrics to track.
Google allows you to add a tracking number on the knowledge panel of your GMB as most of the conversion data is taken from there
These metrics include clicking on the phone extension and website extension, the number of clicks on your ad, CTR, reviews left.
Note- All the conversion metrics that Google tracks are not editable
5 Things We Liked About Google Local Search Ads
Increases Local Visibility Many Folds
Want to get noticed on an ultra-local level? Local search ads might be the best way to increase local visibility. If you own a small business, it will be your best bet against bigger brands.
2. Increase in Calls and Website Visits
If your ad is optimized well, it will show up on the first position on the local pack. It increases the chances that your ad will be clicked on. Then, the chances of receiving leads through calls and web visits increase too
3. Increase In Store Visits
If visibility and leads go up many folds, you can be assured that you will get more store visits too. Don't believe us? Google itself released data that 80% of local searches lead to sales and 50% of local online leads convert to store visits.
4. Easier To Implement
If you have worked with the usual search ads, you might have noticed that it needs a ton a optimization. You constantly need to keep track of keywords, optimize landing pages and adjust bids etc. However, with local search ads, you just need to set a weekly budget and Google will take care of the rest.
5. Helps to Rank for Voice Searches
Recently, voice searches started accounting for more than 20% of all searches. Voice assistants always take into account the top ranking result. Hence, if you are on top with your ad, users will hear a lot more about you through assistants like Alexa and Google Home
Why digital marketing is important for business
Do you know why digital marketing is important for business development? Each company will have specific goals in mind like an Increase in Profit, Sales, brand awareness, leads, etc. Generally, most businesses try to achieve growth by getting more leads and then convincing them to buy their products or services. Digital marketing helps us to generate business in a productive manner. Want to know how effective it is? These are some undeniable advantages of digital marketing, which are mention below.
Table of content
1. Affordability
Digital marketing is significantly less expensive and economical in nature. Compared to traditional marketing methods digital marketing campaigns are less costly when they are accurately prepared and targeted to the right audience.
Many social media platforms allow businesses to update their details for free. Some examples are Google My Business, Facebook Business Manager, etc. From these platforms, you can expect business leads, business queries, brand awareness, etc.
2. Brand Establishment
The major benefit of having a presence on social media is that it creates brand recognition among the customers.The stronger the brand recognition, the stronger the chances of product purchase by the consumers. In short, the main objective of advertising is to make your business recognizable among consumers.With the help of digital marketing, businesses can become branded easily as compared to traditional marketing.
Because of which modern businesses prefer to promote their services through digital marketing to increase their brand visibility and reach.
3. Mobile Access
It is common nowadays to have a smartphone and internet, Which increases the potential reach of digital marketing. Mobile device users are estimated to be over 5 billion in number. Marketing to people with smartphones can increase your brand's awareness. Can Improve your conversion rates and generate business leads also.
7/10 smartphone users make their purchase decision only after getting product or service information from the internet.
4. Reach More People
Digital marketing has a wide reach compared to traditional marketing. As there is no issue of geographical barriers in digital marketing, it allows them to reach more people globally. There are many sources like Yellow Pages, Yelp, DMOZ, Manta, White Pages, and others that are perfect places to get business leads.
In terms of reach, digital marketing is easier and cheaper compared to traditional marketing.
5. Flexibility
Testing and stopping of campaigns add more flexibility to digital marketing. So, this means that if you happen to make a careless error, a simple misprint, or not getting business leads as expected, Chances are there that it can be fixed quickly and effectively. Testing and stopping of campaigns add more flexibility to digital marketing.
When it comes to traditional marketing there is an inability to make a change to the campaign which has been launched. After all, it is not easy to take down billboards, recall newspaper ads, etc.
6. Improves relationship
Customer relationships are the main factors that develop the business. If the business satisfied their customer with good service, then it is easy to retain them. Or else the business will suffer due to lack of good relationship with customers. In today's world, digital marketing plays a major role in maintaining and improving customer relationships.
With the help of digital marketing, brands can easily communicate with the customer through various social media platforms and search engines. The most common and popular platform to improve customer relationships is Twitter.
7. Target right Audience
Since advertisement in traditional marketing is done in form of newspaper ads, posters, banners, etc. targeting the interested audience is difficult. Digital marketing has the capacity to target the right audience as it reduces the reach based on their interests. Those who have searched for a specific key term or showed interest in your product and services.
Because of which digital marketing has a very good Return On Investment(ROI).
8. Tracking
The ability to measure and track the marketing campaign performance has improved the marketing standards. While traditional methods can be extremely effective, it's hard to measure their effectiveness.
On the other hand, there are many tools from which we can monitor digital marketing campaign performance. Social media platforms don't charge for the usage of the analytic part. Many advanced online metric tools are also available
9. Easy Access
Being digital can help your customers easily access your product or services. The Internet gives your business 24 hours virtually. This allows customers to research your products or services after business hours.
Social media presence is an effortless way to browse prices and compare all other services with a simple click.
10. Influencer Engagement
Over the past few years, Influencer marketing has been proven to be the most effective way to market the product. The popularity and the numbers of influencer marketing is only increasing day by day. Since it has a very good record of generating amazing ROI for the brand. According to your budget, you can select the type of influencer also:
It totally depends on your selection of influencer, who is going to advertise your product, as their followers should be your prospective customers. Among them brand awareness will be created.
Takeaway from this blog
In the digital age, it is necessary for your business to have an online presence. It can be in any form whether it's a website, mobile app, or social media page. Getting your company online is a huge benefit for your business. But it is very challenging especially when there is big competition in every niche. Thats why you would need to hire a digital marketing company to help you out.
About us
DG Softech Pvt Ltd is one of the best digital marketing agencies in Patna, India. We offer a comprehensive digital marketing solution to our clients whether they are just starting out or if your firm is at the phase of expansion. We are specialists in providing tailor-made digital solutions. That is why we are among the best digital marketing agencies in Patna.